New Submissions to JCT
The new JCT editing team plans to publish its first Special Issue: The Curriculum of Disability Studies: Multiple Perspectives on Dis/ Ability by March 10, 2019.  Look for an online announcement in the coming weeks.
The team also plans to open journal submissions on March 10, 2019. Please visit http://journal.jctonline.org to submit your manuscripts on or after this date. We look forward to continuing the scholarly conversation in curriculum theorizing with you.
Journal of Curriculum Theorizing Online
The journal is published exclusively and freely online 3 times annually. Our first online issue was published in December 2008.
Archive of Selected Print Issues
Although the journal is no longer available in a print edition, for your convenience JCT Online maintains an archive of the table of contents for selected past print issues. Click the cover to download the appropriate PDF. To order back issues published prior to December 2008, please contact the former publisher, Caddo Gap Press.
WINTER 2006 – [CONTENTS]

FALL 2006 – [contents]

SUMMER 2006 – [contents]

SPRING 2006 – [contents]

WINTER 2005 – [contents]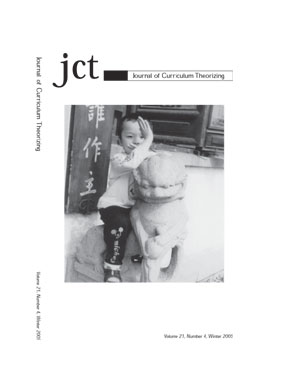 FALL 2005 – [contents]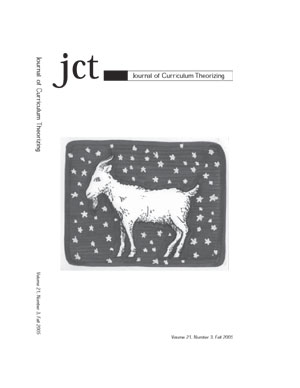 SUMMER 2005 – [contents]

SPRING 2005 – [contents]

WINTER 2004 – [contents]

FALL 2004 – [contents]

SUMMER 2004 – [contents]

SPRING 2004 – [contents]

WINTER 2003 – [contents]

FALL 2003 – [contents]

SUMMER 2003 – [contents]

SPRING 2003 – [contents]

WINTER 2002 – [contents]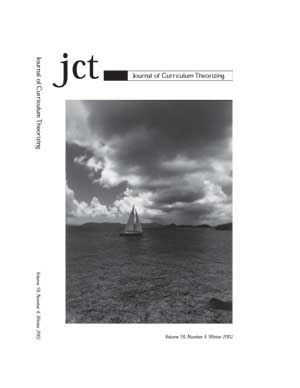 VOLUME 1 ISSUE 1 1979- [contents]
VOLUME 1 ISSUE 2 – [contents]
VOLUME 2 ISSUE 1 – [contents]